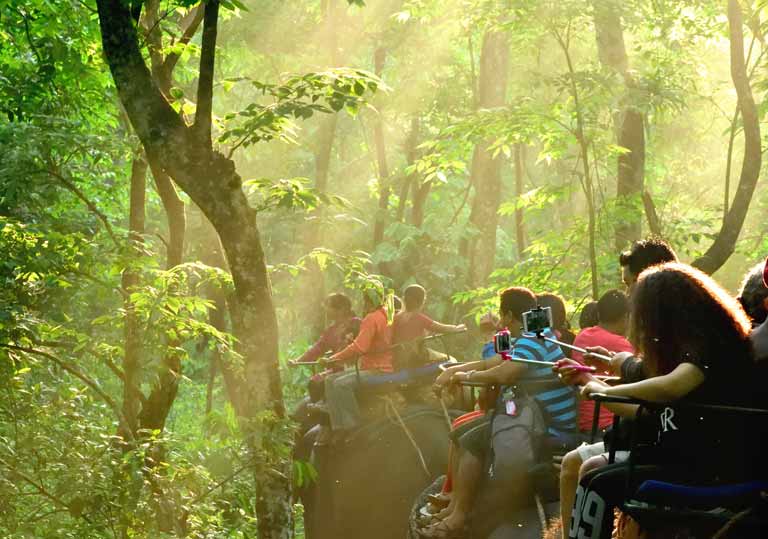 Gorumara Jungle safari is the real treat and entertaining experience for that adventurous tourist who enjoy being in the midst of the forest and revel in watching their lives in the jungle. The experience that he gained out there will be attached in his memory lifelong. The surrounding areas enriched with flora and fauna are birdwatcher paradise where various species of birds found there. To experience entire forest area, rivers stream, small villages, there will be jeep safari and elephant riding available every morning and evening

Jeep safari is the most entertaining experience out there as they get opportunity to see all adjacent area in Gorumara, varieties of herbs, rivers stream flowing sneakily, small huts, birds flying etc which was completely breathtaking. Jeep safari is mainly for visiting various Watch tower like Chandrachur Watch Tower, Chukchuki Watch Tower Medla Watch Tower and Jatraprashad Watch Tower. These are the famous watch tower in Gorumara National Park from where tourist can view the wild-lands,untamed beauty of certain typical wild sections of the Gorumara National and animals like rhinos, bisons, gaur, Asian elephant, sloth bear, chital, and sambar.

Elephant riding facility is also available out there but this facility is only for those who are staying in government resort. It is completely unique and thrilling experience as it takes you towards the forest area crossing rivers stream. It takes you towards Watch towers to see the serene beauty of Gorumara.
Other Places to visit