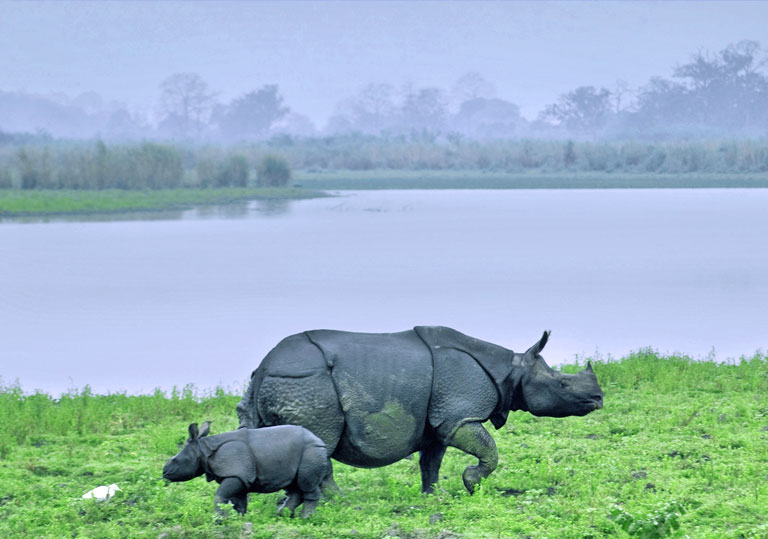 Jaldapara is one of the most popular forests of Dooars. Jaldapara was declared a Wildlife Sanctuary back in 1943 for the protection of Wildlife, particularly single horned Rhinos. Recently in 2012 the forests of Jaldapara has been upgraded to the status of a National Park. Jaldapara is situated at the foothills of Eastern Himalayas in Alipurduar district in West Bengal. River Torsha runs through this forest sanctuary which is mostly covered with tall grasses. The Western side of River Torsha is called the Jaldapara and the Eastern side is known as Chilapata forests. Jaldapara is best known for its population of one horned Asiatic Rhinos, which is the second largest in the world after Kaziranga forests of Assam. The population of Rhino in Jaldapara is said to be around 160 and is increasing at a steady pace. Other major Wildlife includes Asiatic Elephants, Swamp deer, wild pigs, Gaur(Indian Bison) and a numbers of birds, reptiles and others.

Jaldapara is paradise for bird lovers. It is one of the very few places in India, where the Bengal Florican was sighted. The other bird to be found here are the crested eagle, Palla's fish eagle, shikra, jungle fowl, peacock, partridge and pythons and about eight spiecies of fresh water turtles can also be found here. A thrilling elephant safari is organised in the early morning from Hollong forest bungalow to offer the exquisite beauty of the vast grassland of Jaldapara. The elephant ride is the best possible way to explore the sanctuary with the rarte sight of the Indian rhinos Asiatic elephants.

The jeep safari inside the sanctuary is another major attraction. There are multiple Jeep safaris being organised both in the morning and in the evening. Local excursions also arranged to visit tea gardens to see the manufacturing of tea in the nearby tea gardens.

There are many beautiful places to visit around Jaldapara: Totopara which is 30km away from Jaldapara, a small village on the banks of river Torsha. Chilapata forest is in the eastern part of river Toesha and khayerbari Tiger Rescue Centre. Jaldapara tourist Lodge park.
Other Places to visit