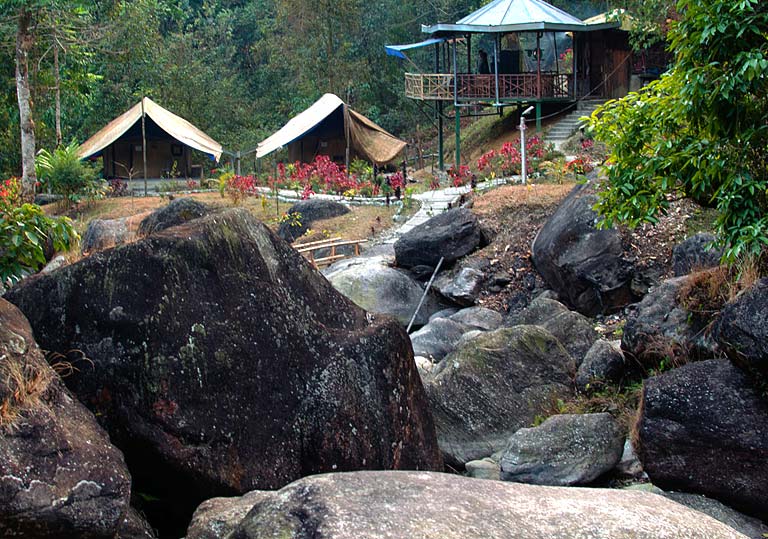 Jhalong is a small village situated on the banks of river Jaldhaka, near India-Bhutan border in the Kalimpong subdivision of Darjeeling district in West Bengal, India. It is just 99 kilometers from Siliguri, towards Bindu. A Hydro Electricity Project is constructed on the Jaldhaka River and it acts as a bridge for crossing over to Bhutan Jhalongis an first upcoming off beat tourist destination in the state of West Bengal in Dooars. It is another lesser-trodden offbeat wonder of DOOARS Himalayan foothills, is situated on the bank of River Jaldhaka on the way to BINDU from LATAGURI.

The place is increasingly becoming popular among adventure enthusiasts and those who are interested in nature vacations. The place is situated along the foothills of the Himalayas and there are numerous activities that you can engage in. The Jhaldaka River flows near the place and a hydro electric project has been started recently. The Dam is an excellent place for picnics and there are several such picnic spots that are located in the region.

Kingfisher, rown Dipper, Redstart, Laughing Thrush and some Water Fouls. Many of these hill birds cannot be seen in the any other place. Trekking is a popular activity in the region and the main routes lead to Tangta and Todey. Trekking along the mountain routes can be an exhilarating experience. You can also engage in fishing and angling in the rivulets and streams that dot the region. You can also take part in one of the organize village tours and this can be a good way to understand the culture of the people of the region. Cultural shows are also arranged for tourists. Eurasian Wryneck, Crested Kingfisher, Brown Dipper, Hodgson's Redstart, Slaty-backed Forktail, Little Forktail, Rufous-necked Laughing thrush are some of the recorded species found here. If contacted early accommodation can be arranged. Beside sum govt accommodation sum private hotels are in operation now but the facilities offered are very much limited and only basic needs can be expected.
Other Places to visit