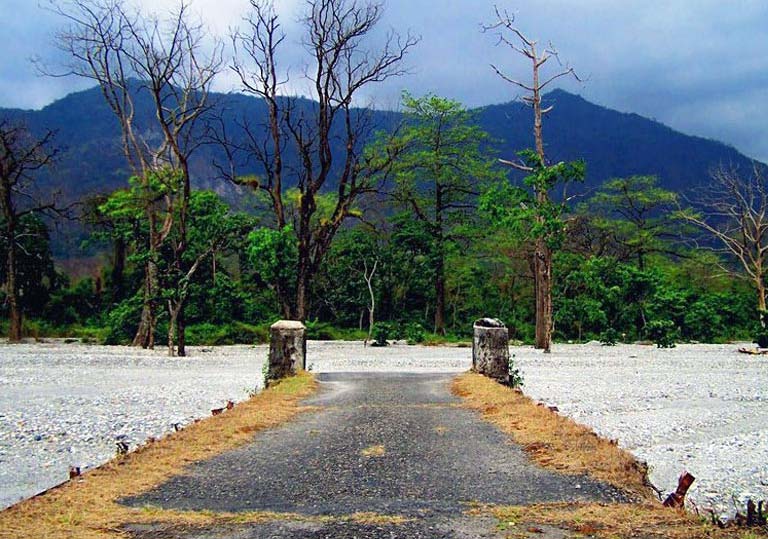 Jayanti is in the Jalpaiguri district of West Bengal in India. It is a forest village forming a natural boundary with the Bhutan hills, some 30 kms from Alipurduar. Jayanti is one of the last destinations in Dooars, often termed as the "Queen of Dooars" this heavely forested area is close to the famous Buxa Tiger Reserve. Although the jayanti river is mostly dry throughout the year, it shores of white pebbles add to the eternal beauty of the place. A pictureaque spot along the meandering Jayanti River forming a natural border with beautiful Bhutan Hills Jayanti is a place to stretch your legs as the cool breeze brushes away all the exhaustions. Jayanti river is as ideal place to relax and rejuvenate in the midst of nature. This somewhat off-beat destination is fast ecoming popular as an eco-tourism hot spot, this picturesque place provides a perfect setting for a memorable tour.

There are in fact, quit a number of places to see at jayanti other than the Jayanti River. One such place is the ruins of the historic Buxa Fort which is located on top of the Buxa Hill, at a height of 2600 feet. During the time of British India, this place used to be a prison for freedom fighters. After that, it became the spot for refugee camps for Bangladeshis and Tibetans. There is also Pokhari (pond) locate on the nearby Pokhari Hill, which is considered holy by the locals. It is some 4km from Jayanti, this place has a great religious importance for the Bhutanese and to reach both Pokhari and Buxa Fort, where visitors need to trek through the forests. Makahal is another popular sightseeing destination and popular pilgrimage site. It is located very close to the Bhutan broder and is a cave devoted to lord Shiva. The hike through the forest towards the Mahakal cabe is famous for bird watching. Visiters can also trek to the nearby Bala Riverbed (another riverbed near Jayanti), which is a great place for bird watching, mainly for peacocks but visitors can't stay till late evening because it is a leopard prone zone. Another great destination for elephant viewing is Bhutan just 1.5KMS from Jayanti.

There are lots of nearby attractions in Jayanti where visitors can actually visit during his stay in Jayanti and one sduch place is the Jaldapara Wildlife Sanctuary which is one of the best forest in India to views Rhinoceroses. On the other hand rhinos Jaldapara is also the home of a wide range of birds paradise flycatcher, Bengal Florican, racket-tailed Drongo and hornbill and Totopara the village of toto tribe is one of the oldest tribe in India who resides in this area. You can visit Jayanti any time of the year but it is advisable to avoid rainy season when the region might become quite inaccessible.
Other Places to visit