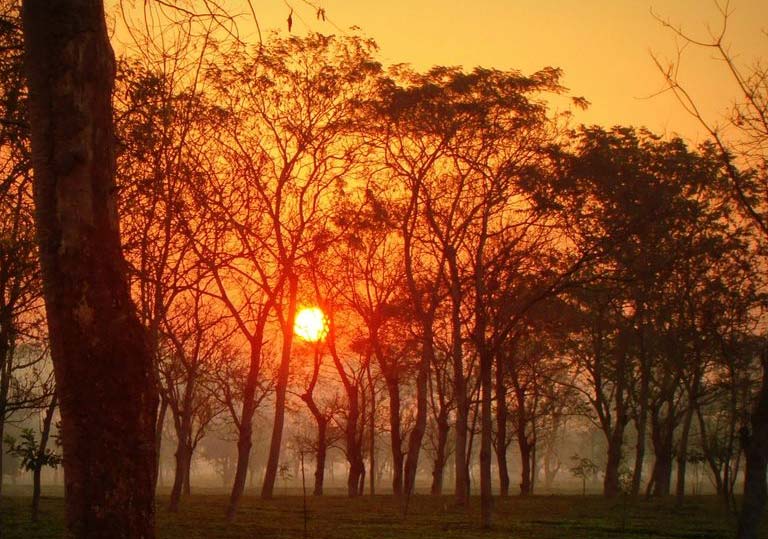 Kalipur Eco Village of Dooars, is enhance with an abundance of wildlife located just opposite direction of the signboard in Lataguri. It is 77km distance from Siliguri. This village will give you the true feelings of staying at Jungle side though that is not forest rest house. The small wooden cottages were beautifully hanging out there. It seems like far better life in Forest village comparing to others. It is a unique example of eco Tourism in Dooars located at the heart of Gorumara National Park.

Kalipur village is a part of Gouramara National Park settle in the Indo-Bhutan border. There is an abundance of wildlife in this National Park where you can easily spot Gaurs, Barking Deers, Rhinos and Elephants, Leopards. Gorumara National Park is a popular tourist destination near Kalipur Village, it is popularly known as its population of Indian Rhinoserous. The park has recorded fifty species of mammals, 193 species of birds, 22 species of reptiles, 7 species of turtles, 27 species of fish, and other macro and micro fauna. The elephant safari in the Gorumara Forest is a great entertainment for the tourists visiting the Kalipur Village. You can also enjoy feeding the elephants and the local tribal programs in the evenings. On the other hand the famous Medhla watch tower from where they catch the sight of wildlife. The Watch tower is built adjoining to the Murti River from where you can see the herds of elephants crossing the river and also get a clear view of Mt. Kanchenjunga. There is a Tea Garden and its factory also which gives tourist absolute charm to capture the moment out there.

Kalipur Eco Village is also an ideal destination for passionate bird watchers there you can view a number of birds including, peacocks, serpent eagles, rufous treepies, bulbuls, drongos, black Ibis, greater pied hornbills and red jungle fowl etc.. The ideal time of visiting Kalipur starts from the mid of October and extends up to the mid of March. The park remains closed during the rainy season (15th June – 15th September) and reopens around the mid of September.
Other Places to visit