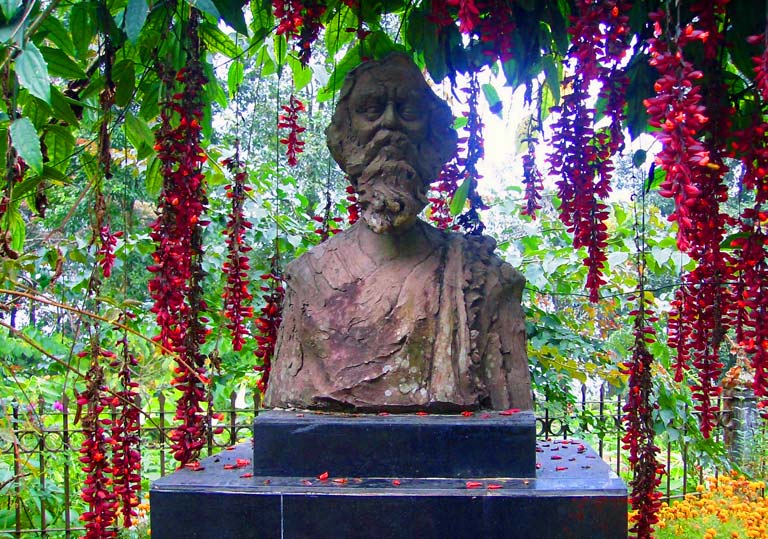 Mungpoo is located 33 km east of Darjeeling and 52 km north-east of Siliguri and it comes under Darjeeling district of West Bengal. As you heading towards Mongpoo, you will pass through tall pine trees, colourful flower nurseries, tea gardens and crystal clear water streams and many more herbs. Mongpoo is popular for Cinchona plantation and cultivation of other medicinal plants. We have studied that barks of Cinchona plants are used for extraction of quinine, a medicinal element used for curing malaria. There is a big Quinine factory also which is very famous in West Bengal. Basically Mungpoo is noticeable for the great poet Rabindra Nath Tagore Museum, the poet used to visit this town for its soothing and quit ambience and of course for its scenic beauty of Cinchona plantation. Although the place does not have the spot like others but it has its own beautiful charm which is priceless. The Great Poet Rabindra NathTegore attraction towards this place as well as his bond with Maitreyi Devi, the daughter of his friend Surendranath Dasgupta create history in this place and memories of his stay here were published in a book named 'Mungpoote Rabindranath'.

It is because of Cinchona Farming and Tagore Museum that Mungpoo has earned its name and fame in the world. Mungpoo is a finest hill side village of Darjeeling with its excellent natural beauty and an exceptional tourist spot of Darjeeling apart from it. This place is full of peace and natural treasure of beauty as the views of Kanchenjunga enhance the glory of this place.

There are many tourist attraction areas in this place which is famous all over India. Actually there is a Bungalow where Rabindra Nath Tagore used to stay and write many of his poems and letters. The Bungalow is beautifully maintained now as a big Museum with his photograph, paintings, writings and other documents related with him during his stay there. The bed on which Tagore slept and the mahogany desk he used and the original paintings of the Tegore as well as several of his handwritten verses and poems are still there.

The Government Quinine factory is another attraction of this place which holds demonstration of quinine extraction from Cinchona for students who visit here, here the process of making quinine from Cinchona extract is allowed for the students at their educational tour. The adjoining garden of this factory which is under the state's agriculture department is very attractive. The bazaar area and a hillock Buddhist monastery which is known as Dinchhen Sherpa Chhoeling Gumba are also tourist attraction. The atmosphere inside the Gumba is peace although it is located right next to noisy area. From the bazaar area another seven kilometres away there is a nice orchid centre which cultivates different types of Orchids.
Other Places to visit