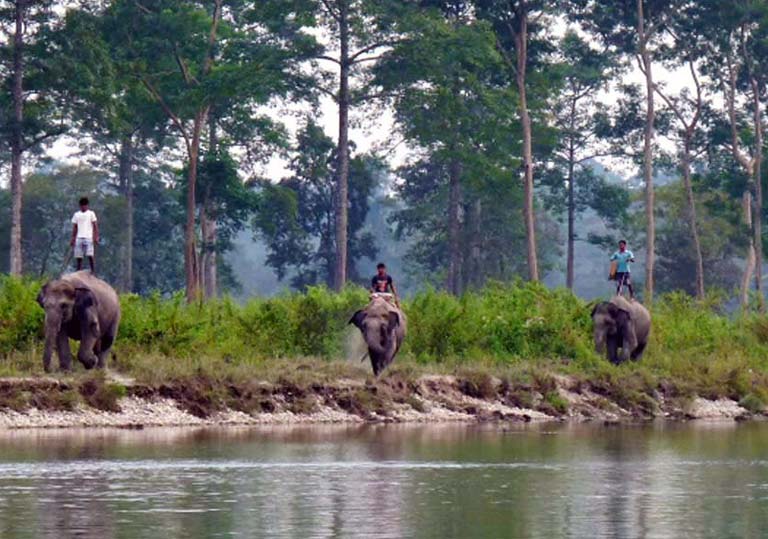 Dhupjhora is a midsized small village located in the Jalpaiguri District of West Bengal. Dhupjhora is situated close to River Murti and on the outskirt of the famous Gorumara National Park. It is beautiful l settlement village which is surrounded by forests meandering rivers. Dhupjhora is also locally known as the 'Elephant camp' because of the philkana – elephant stables – located here. The person who is nature lover or interested to watch the wild life this is the right place where he should surely visit on the other sites the Bank of River Murti gives a spectacular view. Basically this is an Elephant Camp where the Forest Department's elephants are kept and cared for.

While visiting Dhupjhora there are lots of fun loving things to do around like tourist can enjoy elephant safari or Jeep safari either evening or morning time and crossing the Murti River is completely unique, cheering and exciting experience. The elephants are brought to the Murti River for daily wash is simply amazing view for tourist visit here. Dhupjhora is a place where you get opportunity to watch Rhinos, wild elephant and Bison face to face. Dhupjhora Elephant Camp is a unique concept of eco tourism where the tourists get a chance to feed the Forest Department's elephants, give a bath to them in Murti River and ride on them to the deepest parts of the Gorumara jungle to catch a glimpse of the wildlife. Tourist can also get an opportunity to enjoy tribal cultural programmes in the evening time, roam around in the tea garden, visit a carpet factory and enjoy all day in the bank of River Murti. Tourist can also enjoy staying in a tree house there which is totally new experience for them. The ravishing view of almost the entire park, banks of River Murti, the vast grass land, animals feeding around, Rhinos used to come here to taste the salted soil below the tower, monkey becoming very active one tree to another, the gaurs or the Indian bison grazing at the distant meadow, spotted deer or a flock of hornbill flies away are the main attraction from top of the tower.

October to March is the best time to visit the Dhupjhora Elephant Camp. However, the camp stays open throughout the year and arranges elephant safaris for tourist to different parts of the jungle. In the rainy season, most parts of the jungle stays closed for the tourists so the safari is held in selected areas of the jungle only. Nevertheless, you have a very good opportunity of sighting Rhinos, Bisons, Deers, Monkeys, Peacocks and other animals any time of the year.
Other Places to visit