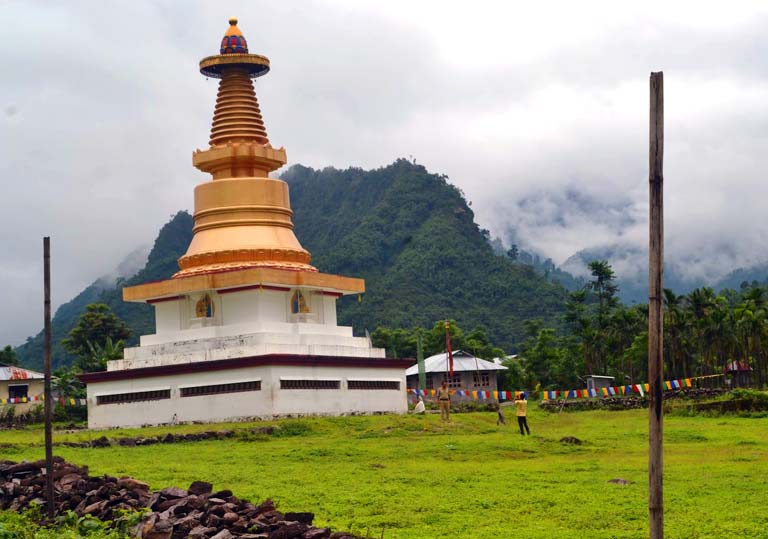 Gorubathan is a small town in the Kalimpong Subdivision of Darjeeling District. The place is about 90 km from Kalimpong town (via Lava) and about 59 km from Siliguri. The place is also called Sombare among locals out there. It is situated on the east bank of the Neora and Chel River, both the rivers valley are called as picnic spot. Local children out there used to go for swimming in Chel River during summer season; it is also famous for its beautiful landscape of the Neora River, hilly alpine forests and Tea garden. The Gorubathan town is renowned for its natural beauty and there are various beautiful sites in and around the place that travellers can actually visit. The landscape area of the town is totally unique comparing to others as the area is half plain and half hill which were quite interesting to see. Gourbathan is a town which is formed by many small villages like Fagu, Neem, Aley, Dalim etc

While travelling from Damdim to Gorubathan there is some of the most beautiful tea gardens of Dooars including Ranichera, Rangamati and Sylee. Just before Gorubathan the Fagu Khola, Runjung Khola and Chel Khola meet to form River Chel. Chel riverbed is perfect for pickiners and nature lovers. On the other side of the river is the picturesque Pathorjhora tea garden. Just above the village is Dalim fort the ruins of a fort build by the Bhutanese kings can still be seen here. The place located on top of the hill also offers breathtaking view of the surrounding and the road from Gorubathan towards Lava is also beautiful. The first few kilometres you will be travelling through tea gardens with Chel River on your left and the road further continues through Faforkheti, which is the picturesque village has the potential to become a tourist attraction.

There are many villages in gorubathan which is famous for tourism for its beautiful nature and historical culture, like Fagu If a traveller wants to capture the splendour of nature, he should surely visit to Fagu – the place is unique and offers the ultimate seclusion. Some exotic species of birds, splendid mountain views, orchards and emerald green forests will welcome them most cordially. Fagu is one of the most attractive village of Gorubathan, the main attraction of Fagu is the heritage and fabulous British Tea Bungalow located on a hilltop surrounded by endless miles of tea gardens with breathtaking views of mountains namely Fagu Tea Estate. Travellers can take long nature walks to various viewpoints within the gardens or enjoy a riverside picnic. namely Fagu Tea Estate.

On the other side Gorubathan Tar is also famous for seeing sunrise and sunset. There is an opened field called Daak Bunglow. It was a built by Britishes. There is 200 years old Lepcha Stupa also. Tamang Monastery in Neem Busty is also another tourist attraction. There are many historical places like Historical Place Lungsyol village Dalim fort and a Lepcha King, his name was Gaebbo Achyok. He was born and brought up in Chyakhung Dara in Lungsysol, Lungsysol was a place which was formed out of scattered stones.

Malbazar, Odlabari, Damdim, are the beautiful places on the way to Gorubathabn. Panch Pokhari, Organic Tea gardens,Samabeong and Mission Sakham jungle safari are all picturesque places in Gorubathan.
Other Places to visit