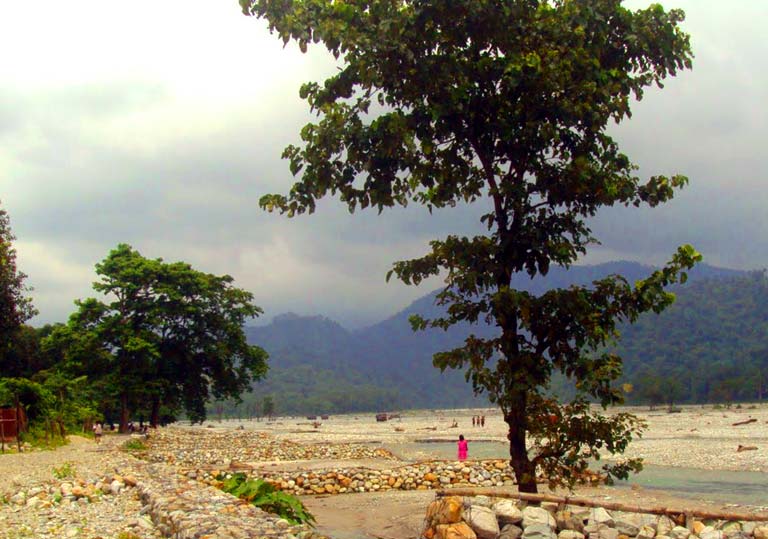 Rajabhatkhawa is a small elegant town near Buxa Tiger Reserve in Jalpaiguri district of West Bengal. It is 150km distance from Siliguri and 15km from Alipurduar. Rajabhatkhawa is enriched with plenty of sightseeing destinations, the place is a depot of flora and fauna, and it is one of the main centres for eco tourism surrounded by emerald green forest and hills this striking hamlet is an idyllic spot experiencing green darkness. The region is admired by the tourist with a number of beautiful trekking trails. Wildlife safaris, bird watching and trekking are the supreme activities of this place. Serving as an entry point of nearby forest, this little town is bounded by rivers like Raidak and Jayanti. Numerous nature trails originate from Raja Bhat Khawa and pass through dense forest areas in and around Buxa Tiger Reserve. Bird watching, jungle safari, trekking and Wildlife watching are the main activities here. Raja Bhat Khawa and its surrounding areas are also home to various migratory birds. The interpretation Centre at Raja Bhat Khawa with its museum of wildlife related exhibits is very impressive for visitors.

On the way to Raja Bhat Khawa there is lots of tourist attraction area; one can see the prolific of green tea gardens and big forests. Kalchini, Patkpara and Buxa Duar are the neighbouring towns of Raja Bhat Khawa which was completely adorable to visit. Another tourist attractioin place at Raja Bhat Khawa includes Orichdarium animal rescue centre and a nature interpretation centre. A watch tower deep inside the forest gives the best opportunity to view Elephants, bison's and tigers. On the other hand Jayanti riverbed is the common attraction for tourists coming to Buxa. The riverbed with Bhutan hills on the other side is truly elegant and is about 16km through forest road from Raja Bhat Khawa. Sikiajhora famous spicnic spot near Panialguri is an about half an hour drive from Raja Bhat Khawa. There is a small stream coming out of the forest on which a small dam is built.

Rajabhatkhawa is a great place for enjoying a relaxed vacation. The nearest sightseeing destination is the famous Buxa Tiger Reserve, which is famous for its ruined Fort, wild elephants, Leopards, tigers, bisons and a host of wild animals; all required entry permits to this Buxa Tiger Reserve are issued from Rajabhatkhawa Nature Interpretation Centre. Winter is the most important time to travel Rajabhatkhawa. It is better to avoid monsoon months as the region experiencing high rainfall along with increase in humidity level. Moreover, the forests remain closed from 15th June to 15th September every year.
Other Places to visit