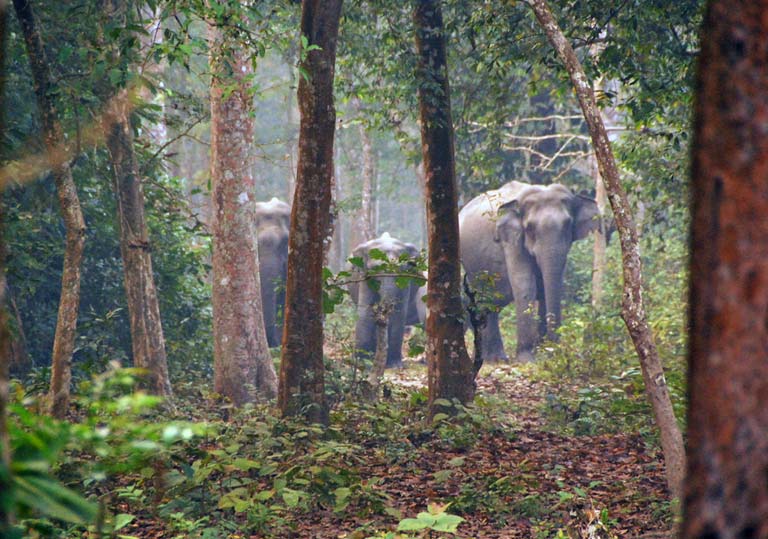 Chilapata is a dense natural forest near Jaldapara in Dooars region of West Bengal, It is about 20km from Alipurduar town and is within the Jalpaiguri district. Chilapata is the home of elephant, one horned rhinoceros, leopards and wild pigs, Chilapata was once infamous for dacoits, but now it is safe and a popular destination for tourists. The West Bengal Forest Development Corporation has set up an eco-tourism resort named Mendabari Jungle Camp at Kodalbasti which is 2km inside Chilapata Jungle. As river Torsha flows dawn from the hill, it travels through the plains of Dooars dividing a continuous stretch of forest into Jaldapara and Chilapata. Jaldapara has traditionally been a popular destination for tourists for its population of one horned rhino and elephant. Chilapata on the other hand gained in popularity only in recent past.

Chilapata Reserve Forests has some of the real densest forests of the entire Dooars Region. It is very struggle to reach inside; creepers crawl up trunks of small trees while shrubs and smaller plants sprout out from almost each and every possible free space on the ground. So dense forest are here that driving through them feels like going through a green tunnel, there is a small stream flowing in Chilapata Reserve Forest and Leopards often come here for a drink at night. Chilapata reserve forest can be explored either by Jeep or by Elephant riding.

There is a watch tower inside Chilapata reserve forest and that is a good place to view the real wilds. Chilapata Reserve Forest preserves real wildlife in its core and there are a number of birds and animals that attracts the tourists. The Chilapata Reserve Forest is a hub of wild animals; it crawls with different species of the Royal Bengal Tiger, the Asian Rhino large Elephant Leopard, Sambar, Hog-deer, Barking-deer Wild Pig Hispid hare and Bison. Chilapata Reserve Forest is also a word of colourful and beautiful birds like Fishing-eagle, Shikra, Crested Eagle, Jungle-fowl Peafowl, Bengal florican, Raket-tailed Drongo and Pied Horn-bill. The forest never feel ease due to the continuous fluttering of birds.

Chilapata Reserve Forest is the most precious treasure of North Bengal but scenically also this forest is not behind from any other once to please its visitors.
Other Places to visit