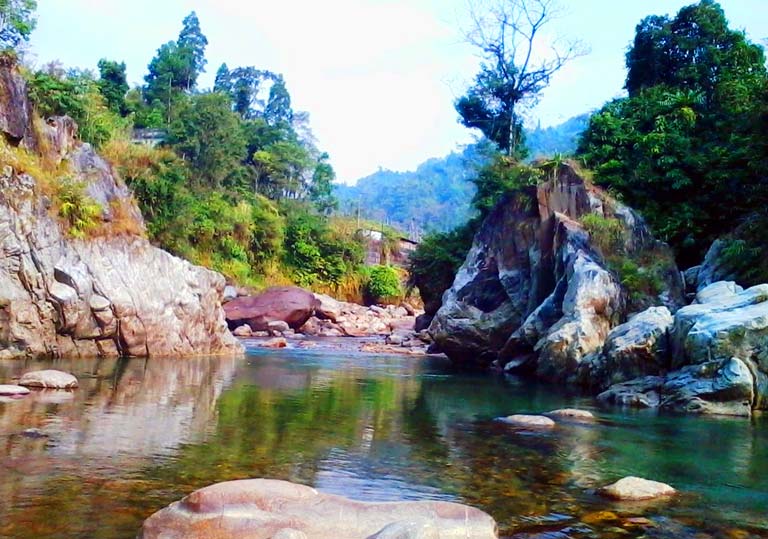 Samsing is a small village in the area of Dooars, located at a distance of 82 km. from Siliguri and it takes around 3 hours to reach from Siliguri. The journey to Samsing is precisely admirable; as we gradually drive uphill from plains we come around the place like completely different which create eccentric feelings. It is another great beauty spot of Dooars. It is a sleepy perfect village truly covered with full of oranges orchard in season. It is extremely shady haunt for nature lovers. Samsing is a distinctive place to visit because of its beautifully tended huts, the green hill slopes, the orange orchards and the Cardamom plantations. It is also famous for its landscape, green Tea garden, hills and forests. Samsing is also called a gateway to the famous Neora Valley National Park. Rivers and mountains are an essential part of the landscape of Samsing.

The major tourist attraction place in Samsing is Aivel Tea Garden is a treat to watch. Samsing consists of several species of animals and plants. Some of the species found here include grey nightjar, greater racket-tailed drongo, orange-bellied leafbird, maroon oriole, greychinned, short-billed minivets, slaty-backed forktail, ashy bulbul, yellow-vented, golden-spectacled and chestnut crowned warblers, white-napped and black-chinned yuhinas. The famous half done Rock garden is bound to attract any traveller's attraction.

There are numerous nearby attraction in Samsing: Just after crossing the Samsing village, you will taste the very first view of Murti River. The scenic beauty of this emerald green stream is truly captivating. Moreover, the amazing view of the tea garden and forested areas covering major parts of Samsing is also fascinating. One of the most popular locations of the tourist destination near Samsing is Suntaleykhola , located at a distance of 5km from Samsing. Next to Suntelykhola, most of the tourists used to visit the serene village of Faribasti. From the top of Faribasti you can enjoy the extensive view of the entire Dooars region. Another popular tourist spot is the 'Rocky Island', situated on the bank of River Murti. This pleasing location is about 2km distance from Samsing which is very popular in North Bengal. After crossing River Murti you can explore the picturesque villages of 'Tinkatari', 'Bhalukhop' few kilometres within Samsing which is great place for the passionate bird watchers. The sound of the pleasing chirping of the colourful birds in this attractive quaint landscape is truly refreshing. The forest tail of Samsing is also great for enjoying a nature walk.
Other Places to visit