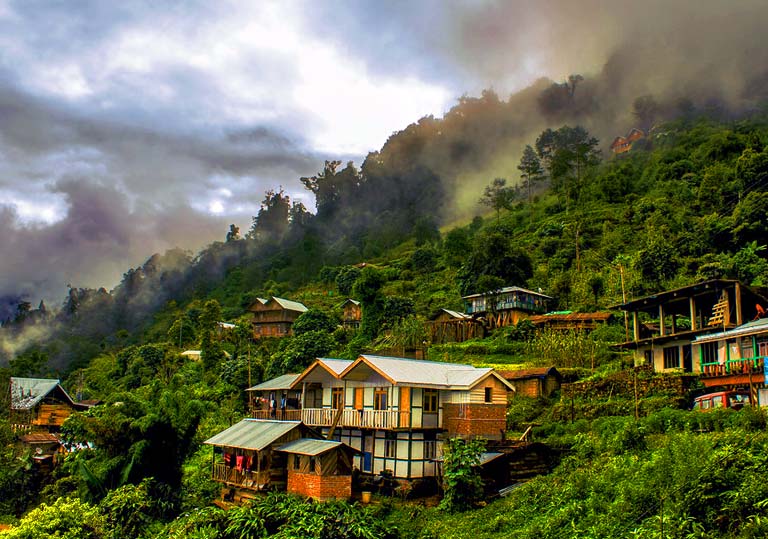 Kolakham is an ideal destination for those adventurous bent of mind and keen nature lover visitor. It is located just 8 kilometres from Lava and is stand on a hill 6100 feet high overlooking the mighty Eastern Himalayas. It is a small village amidst the large number of nature's creativity with panoramic views of the Eastern Himalayas upto the Nathu La Pass. Kolakham is a village basically belonging to 'Rai' community and a village covered with 60 Nepalies family.

From Kolakaham, you can get a view of Mt. Kanchenjunga which is like breathtaking picture. There are lots of activities in Kolakham like rock climbing, trekking and rope traversing to make once trip more interesting.

Nearby places from Kolakham: All attraction around Lava can be reached from Kolakham like Changer Waterfalls, Lava Monastery, Loleygaon, Rishop and Charkol. Tourist can also enjoy village walks or nature trails along the picturesque terrain of the region or they can experience an exciting jungle camp at Neora Valley national Park, which shows an amazing biodiversity of endangered species of plants, animals and birds. They can also explore towards the forests surrounding Kolakham and trek over the rocks to taste the view of dazzling waterfall. Tourist can also visit nearby areas during their stay in Kolakham like Lava, Loleygaon and Rishop. These hilly areas are not so far from Kolakham and exaggerate their exotic natural surroundings, presenting spectacular view of the Eastern Himalayan peaks. Mainly Travellers can enjoy the view of snow covered mountains from the village. The mountain ranges which are visible from Kolakham are Mt. Kharg, Kabroo, Talung, Khang-Chen-D-Zongha, Rathung, Simvo, Narsingh, Siniolchu and Pandim. The other famous attraction area in Kholakham is Change Falls is just 4 kms away from Kolakham and can be reached through Jeep or Trekking. Lava Jamgyong Kongtrul Monastery and Ngedon Chang Ling Retreat are other famous tourist spot around Kolakham. You can visit Kolakham any time of the year but winters give you the best chances of viewing Mt. Kanchenjungha and the mesmerizing sunrises above it.
Other Places to visit