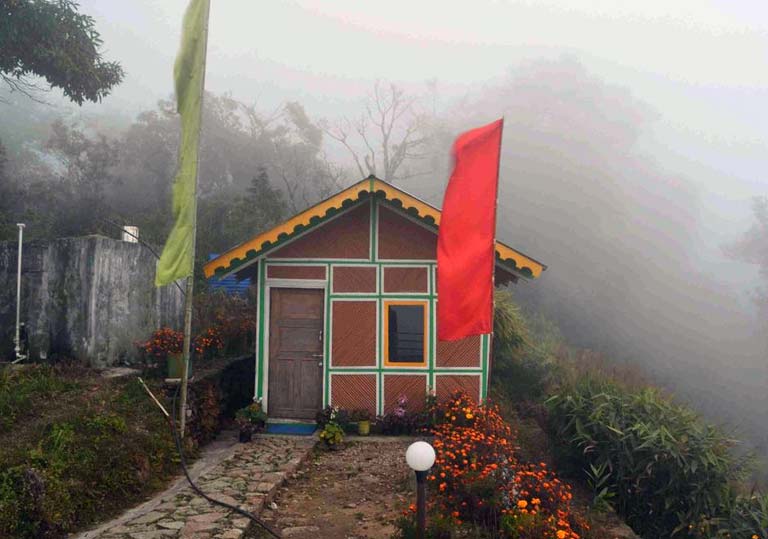 Jhandi is a scenic valley located in the Dooars region of West Bengal; it is 87 km distance from siliguri and around 09 kilometers from Lava. While travelling through Gorubathan Mt. Kanchenjunga and a panoramic view of the Mahananda River valley will be seen. It is an area fully covered with tea plantations and forests. It is an ideal destination for those who interested in exploring a new untouched destination and in love with truly forested area. Jhandi is substantial in lush, tropical evergreen trees, Sal and Pine forest, which are home to some of India's rarest Himalayan flora and fauna. Jhandi should definitely be travel destination for all tourists because of its magnificent climate, exceptional flora and fauna, picture perfect setting.

Places to see in Jhandi:
The sightseeing in Jhandi is unimaginable like the sight of crackling clouds rising up from the Dooars valley, or the sight of yellow fog gently floating along the valley during sunset definitely makes for tremendous photography and a lasting memory for the tourist. This is best combination for the tourist with admirable and majestic views of the Mt. Kanchenjunga as well as neighbouring mountain ranges and the meandering Mahananda River flowing down the Dooars valley. Another heavenly attraction for tourist in Jhandi is Sunrise and Sunset Point.

The Samabeong Organic Tea Garden is well known for employing Biodynamic farming in the tea cultivation. Samabeong teas have become popularly known both within and outside India for their unusual, distinctive flavour because of their particular cultivation technique. Tea Garden lovers will definitely enjoy their visit to the tea garden, where they can spend quality time in the cool, clean environs. As Jhandi is situated near to Gorubathan tourist staying at Jhandi can easily travel towards tropical evergreen forest of the western Dooars region like Gorumara and Chapramari. The Lava Buddhist Monastery just few kilometres away from Jhandi is perfect destination for that tourist who wish to spend a bit of time from that crowd and scamper journey, as well as for the spiritual who wish to reflect over things in a calm and peaceful environment.

The famous Changey waterfalls with its peaceful perfect green surroundings can be the best relaxation spot near Jhandi. The amazing sight of the water tumble down into white foam can be an awesome scene to behold. Among all those major attractions there is a 1000 armed Avalokiteshwara temple within the monastery premises, and various scriptures and figurines of important Buddhist religious figures. Another nearby attraction is Fafarkheti in Gorubathan area is a picture-perfect village and an ideal picnic spot with the snaking Chel River and surrounding jungles. You can also visit the ruins of Dalim Fort, located high above Gorubathan for the remains of a Bhutanese fortress, hemmed in on all sides by thick forest cover.
Other Places to visit