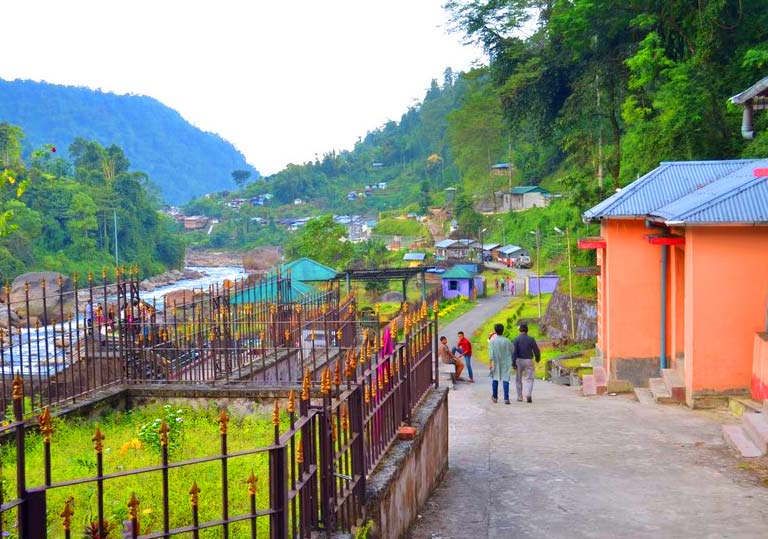 Todey and Tangata Village is situated in close proximity of the Bindu village. It comes under Darjeeling district of West Bngal. This is a village of Tamang, dukpa and Bhutia community, known for its very serene landscape. These are two small villages ahead of Bindu in the Neora Valley National Park area. The whole area is famous for cardamom and Orange production. Tourism infrastructure is just getting developed here and limited tourist accommodations available. However Todey Tangta can be visited based in Bindu or Jhalong from where Todey village is about an hour's drive through Paren. There is a Monastery in Todey located at Tangta Village which is in peaceful atmosphere; it is like centre of attraction for visitor. The Buddhist festivals like Losar, Loosong, Bhumchu, Saga Dawa, Lhabab Duechen and Drupka Teshi are celebrated beautifully and school, office will remain closed because this is the biggest festival of theirs. The whole area is also known for medicinal plants with a large medicinal garden known as Chamelidevi Ayurvedic Garden near the Village. There are two big churches for tourist attraction in evening time. The St Nicholas church which is quite big located on a high ground above the main town and the Church of North India is a humble cottage about 110 years old is located at a lower level just below the main ground of Todey.

The nearby areas of Todey for tourist attraction: The distance cover 108 Km to reach Bindu from Todey, it is the village at the very border of India with Bhutan in the Northern part. The most imposing figure of Bindu is the dam with hydel power turbines where lots of tourist used to visits here to see the dam. It is a part of the Jaldhaka Hydel Power project. The river of Jaldhaka enters the national boundaries of India at this very point and this river forms a natural boundary between the two countries.

There is a long footbridge to enter into the land of Bhutan which is breath taking moment to walk in that bridge. A project of the West Bengal State Electricity Board, it is the first hydroelectricity project to go in operation in independent India. Bathing and lunch at Bindu is very interesting. It is located at a lower level, just below the main ground of Todey. While walking towards Tangta there is big missionary school and Todey Khola, which is pretty cool and the flow of river was quite amazing for the visitiors to refresh and relax.

Further venture can take you to Rachella peak, which is six to eight hours climb from Tangta. Load carrying horses are available at Tangta. In Rachella there are many natural lakes beautiful scenery, flying birds, insects. Tourist found mesmerizing attraction out there. While returning back to Todey, there is a river name Dabai Khola, medicinal waters of Dabai Khola, the water contains sulfur and other minerals which are said to have healing properties for skin diseases. So all the visiter used to carry that water else they drink out there.
Other Places to visit