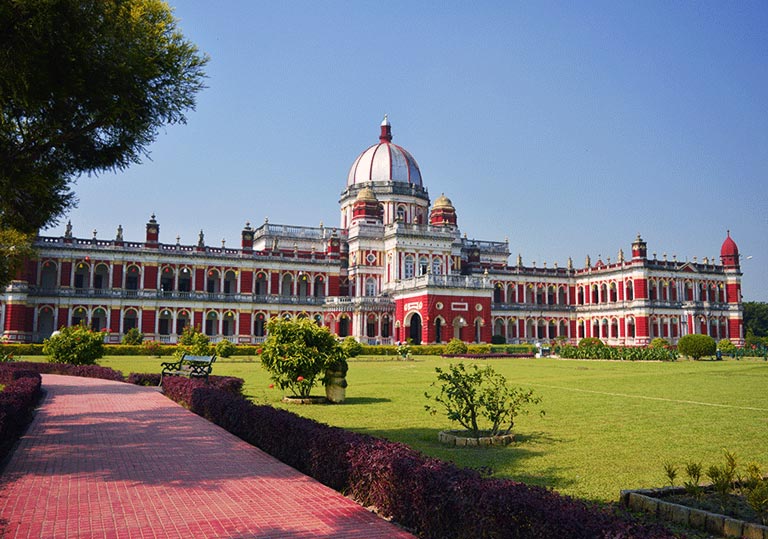 Coochbehar is the only well planned town located in the north eastern part of West Bengal; Coochbehar shares its borders with Assam in the East and neighbouring country Bangladesh in the south. The town Coochbehar is beautifully decorated through its striking monuments and palace . The main attraction in Coochbehar is the Palace of the Koch King with classic designed, Apart from palaces and majestic building there are multiple other tourist attraction in this culturally haven town ,its fine climate freshness, real story of the medieval period are beyond attraction. Places in Coochbehar are like worth visiting. Rath Mela, Rass Mela, Baradebi Mela are the greatest festival of Coochbehar. It is also famous for his large water bodies, bird named Rasik bil is famous for making huge population for a migratory birds that assemble here every year which is quit interesting for tourist.

Coochbehar Royal palace (Rajbari): It was built in 1987 by Koch king Maharaja Nripendra Narayan. The Designed of the palace is in classical European style of Italian Renaissance. It was a double stored brick building covers an area of 4768sqm it extends 120 metres from north to south and 90 metres from east to west. The building contains more than fifty rooms/halls of varied dimensions which include the bedrooms, dressing rooms, billiard room, kitchen, dining hall, dancing hall, library, toshakhana and the ladies gallery. Certain rooms deserve special attention for their beautiful paintings in the ceiling as well as in the interior wall surface

Coochbehar, Madan Mohan Temple: The Temple was constructed during the year 1885 to 1889, by Maharaja Nripendra Narayan. It is also called a Land of temples , the Temple was like the heart of Coochbehar. On the occasion the Temple used to celebrate different rituals puja rath yatra and all. Rush Purnima is the biggest festival of North Bengal, the temple used to celebrate whole heartedly.

Baneswar Shiva temple: It is located at a distance of around 12km from Coochbehar scenic peaceful surroundings. The entire Temple is divided into several sub temples that showed the images of Hindu Goddess. The tradition of the temple is strictly follows, According to Hindu tradition no one can get inside without taking a bath.
Other Places to visit