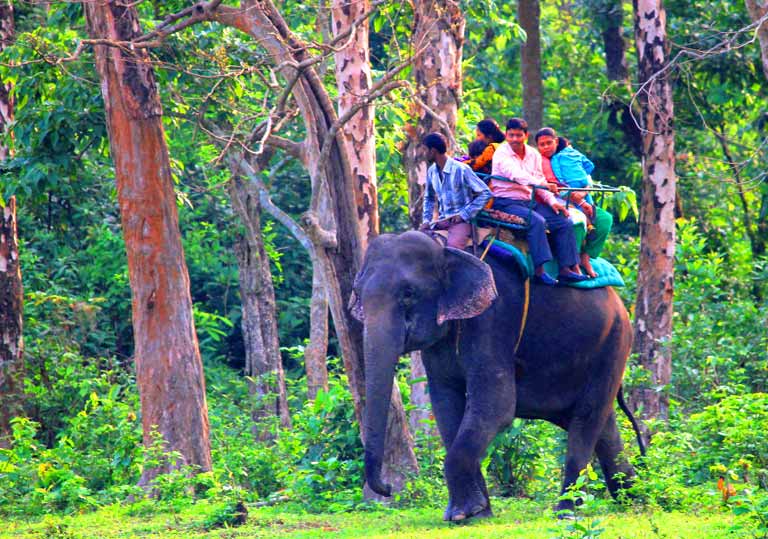 Gorumara Forest is a wonderful forest to introduce people to Wildlife Tourism. This is one of the famous forests in Dooars region of North Bengal. It has a wide range of wildlife like gaur, Elephants, Rhino, deer's and varieties of birds. There is a huge water body where you can also view birds like hornbill. It is cheap and easily accessible. This is a big forested area where you cannot roam around easily. There are lots of sightseeing in and around Gorumara Natonal Park which capture tourist attractions immensely and lot more places to visit around also.

Elephant Riding at Gorumara is very famous for the tourist visiting out there which is completely new experience for them. But it is availed for only those who is staying inside the government forest Department' resorts at Gorumara Eco Village Kalipur, Gorumara Elephant Camp Dhupjhora and Gorumara Rhino Camp Ramsai. The ride takes you across Murti River and inside deeper part of jungle. While riding they come across beautiful scenery of forest area and there are opportunity of seeing rhinos and bisons also.

There are various watch towers inside Gorumara National Park like Chandrachur Watch Tower, Chukchuki Watch Tower Medla Watch Tower and Jatraprashad Watch Tower. These Watch Tower are main tourist attraction point in Gorumara from where they can see the bird's paradise where one can spot local as well as migratory birds like Indian Hornbill, Spangled Drongo, Scarelet Minivet, Peafowls, Peacocks, woodpeckers, pheasants, Asian paradise suncatcher from Chukchuki Tower. Chandrachur Watch Tower which offers the panoramic view of wild-lands and untamed beauty of certain typical wild sections of the Gorumara National Park including forest trees, shrubs, grasslands carved by rivers and rivulets and the animals found out there in Park.

Elephant riding gives you unique feeling as well as fully entertain you while riding through many unimaginable area. Elephant riding is the most demanding tourist attraction now a day.
Other Places to visit