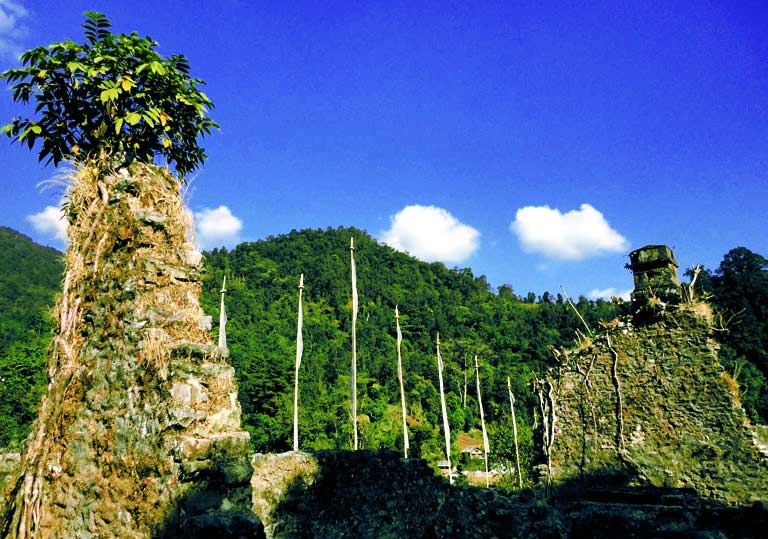 The famous Buxa Fort is located at an altitude of 867 metres in the Buxa Tiger Reserve, Jalpaiguri district West Bengal. It is one of the earliest forts in Eastern India and it takes just 5km distance from Santarabari to rach Bixa Fort. it can be reached by one and half hour trekking also. It is one of the most popular tourist destinations for one who visit in Buxa Tiger Reserve in Dooars. Buxa Fort is also related to long time history, as the fort was used as prison by the British. Many freedom fighters were imprisoned here during the British Rule. After Independence the Fort is served as a refugee camp for Tibetans and Bangladeshis. It is thrill to visit here and experience the all those stuffs especially for the novice trekkers. Buxa fort is the main trekking point towards lots of areas. To visit the place like historic ambience Buxa Fort is the perfect destination.

There are number of beautiful trekking routes start from Buxa Fort. Rover's point is the heaven for bird watchers which is 3km ahead of Buxa fort. Hard trekkers can go ahead another 6 km to reachRoopam valley or Rupang valley bordering Bhutan. Another small but beautiful valley called Lepchakha can be reached from Buxa fort by 5 km trekking. Lepchakhawa offers a splendid view of entire Buxa Tiger Reserve, plains of North Bengal and adjoining Bhutan. Adventure loving trekkers can take a route which starts from Buxa fort covers 13 km distance through dense forest and reach Jayanti village in Buxa Tiger Reserve forest. But for enjoying the route a prior written permission is required from forest department and a company of an expert guide.

The fort was an object of dispute between the Kings of Bhutan & the Koch Kings, as the military importance of the fort was very high, as it guarded one of the most important routes to Bhutan. The fort was later occupied by the Bhutanese army, & the King of Bhutan used it to guard the famous Silk Route that connected Tibet with India through Bhutan.

The Koch King requested the British to reoccupy the fort by defeating the Bhutanese, which the British did & captured the fort which was formally handed over to the British on November 11, 1865 as part of the Treaty of Sinchula.

The British rebuilt the fort & the old bamboo & wooden structure was replaced by stone.

The fort was later converted into a high security prison to detain the freedom fighters who fought against the British. The fort, almost inaccessible at that time, was only second to the Cellular Jail in the Andaman Island in notoriety. The small cells devoid of the basic facilities, the cruelty of the guards, the dense forest surrounding the fort with wild carnivorous animals like tigers & leopards roaming freely & the inhospitable terrain of the area as a whole made the fort-cum-prison a veritable hell on earth. After India's freedom, the fort was abandoned.
Other Places to visit