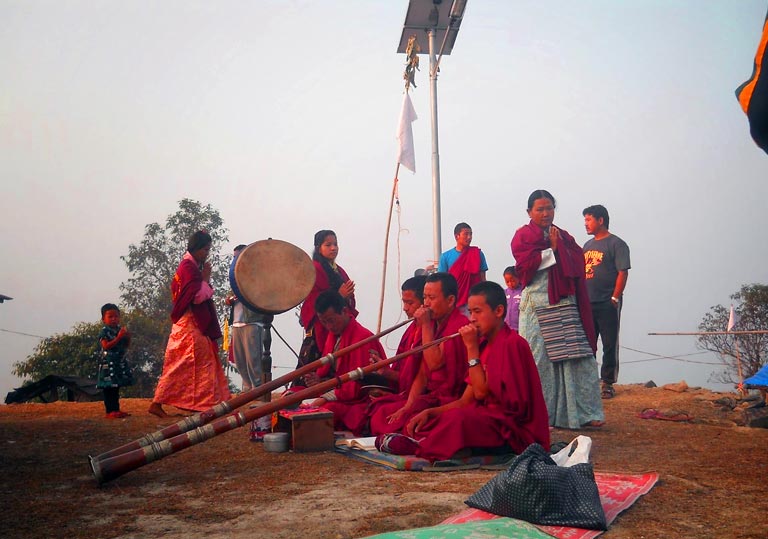 Lepchakha is a small serene village on the hilltop inside the Buxa Tiger Reserve and very close to Bhutan border. The place is surrounded by five popular peaks among which Mahakal, Chunabhatti and Rovers Point as together makes a great opportunity for trekking and excursion tour. It is also called a Drukpa village as they are the original inhabitant of the place. Basically these people are Bhutanese in origin and have unique culture different from Nepalese who dominate lower part of the hills.

The architecture of the house, their lifestyle, their food all is very unique. The main attraction of Lepchakha is the view from hilltop which is enthralling. There is a big ground from where tourist can seat to observe the view of Dooars and almost the entire Buxa forest area is visible from here including every corner. Seven rivers flowing through the Buxa forest can be from seen here as to your left you can see the famous river Sankosh followed by Raidak, Jayanti, Bala and others flowing sneakily. Tourist can also see Alipurduar town, Jayanti riverbed, Santalabari and the entire green covered area in front of the face. The whole history of the area is not clarified but area was mostly under Bhutan's Pasakha region. Turning towards history there were great conflicts between the king of Bhutan and the Cooch king of the plains over the area. Finally they signed an agreement named Sinchula Agreement after1865 the Dooars war between British India and Bhutan. Under this agreement the Buxa area came under British occupation, the Pasakha area came to be known as Buxa and the Pasakha Dzong became Buxa fort.

One can trek to many nearby places from this Lepchakha Village to see the adventurous scene of the hills closely.
Other Places to visit